Yuko KURAMATSU , Japanese of origin, has been passionate about manual work since childhood. His mother showed him ceramics from different regions on each trip, which made her to want to not only contemplate, but to lend a hand.
After few experiments, in 2012, Dany SOURIAU entered in his life, opening the door to the clay path. So the wheels started to spin and a little ceramicist woke up in Yuko. By continuing to exercise in her workshop, as a trainee in professional training, she learned the basics, discovered and experimented with different techniques, particularly passionate about turning.
It was during this learning phase that she felt more and more attracted by porcelain and in particular with the technique called neriage : a work on the mixture of colored clays. Subsequently she discovered the work of Eiji MUROFUSHI , Mika SATO and their workshop. So she started making porcelain pieces in nerikomi.
It was during this period, thanks to Dany, that she got to know Florence BEUDIN LESAINT . And since then, these three ceramists meet on a regular basis to exchange their know-how.
In spring 2016, Mr. MUROFUSHI received her for an intensive private internship and she was able to meet Ms. SATO, and since then she continues to see them.
---
2017 July / August - Exhibition of the Young European Ceramics - selected.
2017 December - 2017 Nantes craft fair - 1st prize Banque Populaire Atlantique competition
Nériage et nerikomi
---
In France, "nériage" is the term most often used. This word comes from the Japanese, "neriage" 練り上げ (or 練上) pronounced more like nose-bed-to-watch, literally translated: "knead-finish". There is also the term "nerikomi", which also speaks of the work of mixing colored earths such as neriage. Nerikomi 練り込み(or 練込)means "knead-put". The distinction of these words is not strict, but we often find that turned pieces are called neriages instead, while hand-shaped pieces are called nerikomi. Yuko uses the term "nerikomi" like Mr. MUROFUSHI and Mrs. SATO.
---
Nerikomi
In a nerikomi piece, it is possible to see several colors, or just one but with different shades. It can represent abstract images like clouds or waves, geometric patterns, or even a perfect design like flowers. However, all this is not "painted" because it is not an enamel or paint job. These patterns are the result of reassembling clays previously colored with different pigments. The manipulation of porcelain further complicates these reassemblies because of its much more elastic texture than stoneware. During the various stages of design, drying and two firings, even the most experienced nerikomi ceramists are confronted with problems of cracking, breakage and deformation.
---
Images of porcelain
To each person his expression of porcelain but it evokes us: whiteness, nobility, finesse, purity, sobriety... Bring porcelain into your life, on your table, in your room, wherever you feel good. And don't get me wrong, porcelain isn't as fragile as you might think. Even if a cup or a statue seems fragile and brittle to you, the solidity is higher than that of stoneware. After the last firing, the porcelain becomes almost a stone.
---
translucent porcelain
Yuko also plays with translucency in her nerikomi pieces. Natural porcelain tends to let light through. However, the pigment-colored parts cut this effect. Exposed to light, his pieces offer us another atmosphere, a kind of magic: the patterns are intensified and other hidden ones appear.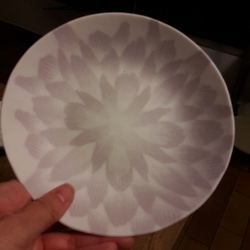 ---
Soft touch, the final texture
Yuko chooses not to enamel its porcelain pieces, in order to preserve the matte and pure side of the porcelain. She sands all her pieces after the last firing, with several papers. This step gives them a very soft "skin", very pleasant to the touch. A well-colored sauce or a coffee will not stain them.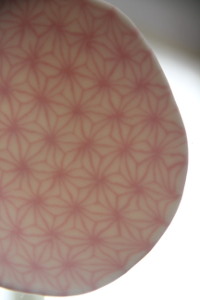 "Hemp leaf" is the translation of Asanoha. The triangles that form hexagons represent one of the traditional Japanese motifs. The diamond in two triangles is reminiscent of the pointed leaves of hemp. The Asanoha pattern has long been a symbol of good health and also considered a talisman. Indeed, it is a plant that grows quickly, straight and very tall. Thus, in the past, parents dressed their newborn at the age of 2 or 3 days, with a small kimono in Asanoha pattern. In addition, there were many kimono with this pattern, especially as under-kimono, for the older ones, in order to benefit as closely as possible from its effect. Beliefs often associate the triangle with a protective power (talisman, exorcism). Multiplied, they increase their power. Nowadays, it is omnipresent thanks to its beauty but its meaning is forgotten among the Japanese and absent among Westerners.